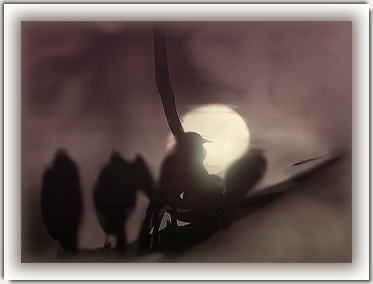 We know that nighttime arose from the deep,
above mountains, the sky turned pink.
Below this, though, was pearlish darkness.

Birds gave what they will,
and folding tired wings in sleep
saved their thoughts for morning's flight.
And we walked quietly, well - we tried
for dew-grass is crisp neath pensive feet.

Trees hummed gently; rocking the lullabies of swishing twigs .

We weren't fatigued, as calmness fed our sleepy eyes.
And our soft bed sighed in wait,
calling across evening's delight toward this day's end.
© July 2009 by BC Williams
<< Miscellaneous
Or perhaps another category of poems?
Trope -
Feminine -
Inmorata
Agape -
Nature -
Kids
Humor
_________________
'Fill your paper with the breathings of your heart.'
William Wordsworth
---
Permissions in this forum:
You
can
reply to topics in this forum