..
..
..
A Writer's Journey into Self-Expression with Words
I
t was 2002 and I'd just lost a couple of very important folks in my life. My inner dialog was not great, thoughts of suicide plagued me 24/7, invading my dreams and ruining my days. I realized,
I've got to get these thoughts out of my head!
In my searching, I stumbled upon the now defunct online writer's workshop called,
A Novel Approach
. In that wonderfully creative environment I became a member of two groups, poetry and short story writing. Each genre allowed its students one month to complete a specific prompt. We worked together, peer to peer, submitting one, two, sometime 3 drafts - then the final, finished story and poem. I realized early how invaluable peer interaction can be. As a novice, I learned much from the experienced mentors.
Of course my loss played itself out in my earliest writings as in these poems,      
A Fragment of Healing
and
I Will Not Forget
My peers were supportive as I limped away from my morbid state, blossoming into a writer with a focused voice.
A Brief Recalling
Writing mentors don't only teach you the logistics of good writing, they show you
yourself
as if looking into a big mirror. I found becoming a good writer is more than knowing the rules. It's finding that niche inside yourself that has a story to tell, and because you've honed the skills, you can tell it well.
In 2006, wanting to showcase a few of my works, I took out a personal site at Freewebs. As I searched for someone to discuss short story writing with, I landed on the doorstep of an accomplished writer named
Rick Jankowski
. Under his tutelage, he helped take my abilities as a story teller into a deeper realm. He showed me how to pull the most out of my writing, laying out the methods of 'show, don't tell'. A whole new world was opening to me, one where lighting doesn't just strike, it
crackles through the sky like blazing meteorites
!
Rick then introduced me to the world of publishing. I found it's tough business getting small press magazines to want your work. You have to taste being published badly enough to put together a proper cover letter, do the research for your chosen genre, and be diligent in submitting. I didn't have the drive, but still managed to get a few pieces published online and in
The Storyteller Magazine
.
In 2008, I joined a poetry community and soon worked my way up to assistant administrator. Shortly thereafter, I resigned that post but a new world for me had been opened: Web mistress! I love to tinker, and at that time had plenty of time for designing a forum to share my work in.
Recently, I got married to Mr Williams. We live in Lakeland Florida, with our dogs, Pete, Sammy, and Daisy Duke.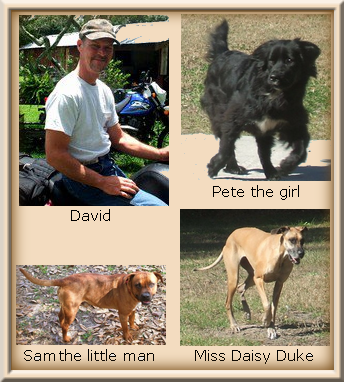 BC Williams
2012
_________________
'Fill your paper with the breathings of your heart.'
William Wordsworth
---
Permissions in this forum:
You
cannot
reply to topics in this forum