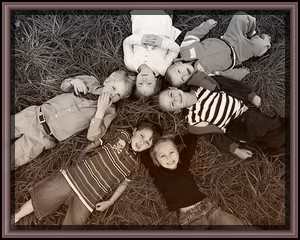 Playing!
When I was young, we'd play hide and go seek,
checkers on Mondays, then stomped through the creek.
On Tuesdays, we'd fish or laze on our backs
and watch clouds creep and eat Cracker Jacks.
On Wednesdays, we'd hike to the end of the woods
though our mom warned us we might not should:-)
On Thursdays, if raining we'd play in our room
or sometimes take turns on a horsey broom.
On Fridays, we'd bike ride or build big-box forts,
or climb tall trees even though we were short!
Saturdays we'd remember this huge, awesome world -
like a pitchers pitch, from God's hand earth twirled.
Then Sundays, we'd start the week over again
with plenty of games that we'd play back then.
© 10.14.2009 by BC Williams
<<
Kids
Or perhaps another category of poems?
Trope -
Feminine -
Inmorata
Humor -
Agape -
Nature
Miscellaneous
_________________
'Fill your paper with the breathings of your heart.'
William Wordsworth
---
Permissions in this forum:
You
can
reply to topics in this forum