.....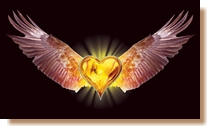 'I love you'
seems so open and freeing to say to you my heart,
though I know you tremble at it's reflection.
For eons, I isolated myself from love's part,
thinking I didn't deserve it and others wouldn't understand.
But then I saw, my heart, that you too needed love's start.

I find 'him' all encompassing! I can say it now, for me,

that when he loves me with his smile,
oh my heart,
I feel your childlike blush -
I feel that exquisite adrenalin rush.

He touches me carefully like a song thrush kissing wind with joy and hope.
And you my heart,
drenched in love's entire scope . . .
we three have become whole.

© 5.9.2010 by Bev Williams
<<
Inmorata -
Or perhaps another category of poems?
Trope -
Kids -
Feminine -
Humor -
Agape -
Nature
Miscellaneous
_________________
'Fill your paper with the breathings of your heart.'
William Wordsworth
---
Permissions in this forum:
You
can
reply to topics in this forum